THE SOLUTION:
Most attempts to improve the design of lithium ion batteries have tackled the problem at the macroscopic scale, but work is now focusing on the nanoscale. Nanomaterials were slow to enter the field of energy storage because the effective increase in the electrodes' surface area raised the risk of secondary reactions involving electrolyte decomposition.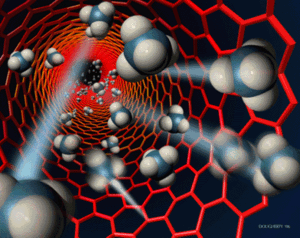 In collaboration with our partners, NASA Ames Research Center and California Institute of Nanotechnology,Lithium Air Industries brings unique expertise in nanotechnology to solve some fundamental problems in the development of Lithium Air battery technologies.
Our research team lead by our director Lloyd L. Tran is currently developing Lithium Air Technology that can potentially provides 10 times more energy density than the lithium ion battery technologies. The newly developed Lithium Air Technology will be used to power an AMPTRAN electric car that will go for 400-500 miles between charges. The Lithium Air Battery technology developed by Lloyd Tran is based on proprietary Nanocomposite Technologies.